why mysalon99.com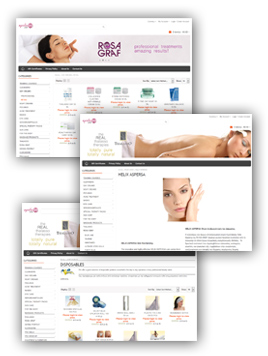 The mysalon99.com online shop is always open and available to you 24 hours a day every day!
Use the online shop to place your orders, to refer to treatment procedures on over 70 treatments for face and body, watch videos of treatments, and earn cash back with every purchase you make. You will find professional cabin and retail products from Rosa Graf, Heitland Cosmetics, Thalasso, Kleraderm and Dermaperfect. Above all you will have access to the monthly offers available only to beauty professionals.
Registration is mandatory. Unless you register, you will not have access to prices, special offers or price catalogs. We verify each registration manually. The reason of course is for your protection. We don't want your clients to be able to have access to the proferssional prices which could lead to any number of problems with your clients.
benefits
1
Continually updated product information and special offers on a wide range of products.
2
Customer Cash Bonus Points (earn actual cash with every purchase).
3
Step-by-Step instructional manuals for all therapies - some with videos.
4
Free Delivery. In Cyprus our professional aestheticians will deliver your order at your beauty salon, and are ready to answer any questions you may have about the products, treatments or salon equipment. All international orders are sent by registered or express mail at an additional cost. Free upgrade to express shipping is offered on orders of €100 or more on all international orders.
5
Continuous support either through the website, through the phone, or in person for your better service.